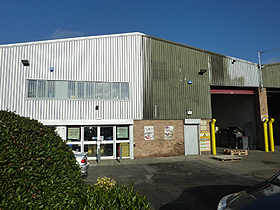 Industrial Cladding Recoating – Doors – Roofs
At ARS UK Ltd we can bring buildings back to 'as new' condition. Stringent preparation and high quality primer and finish coatings ensure a long lasting, guaranteed finish.
Paint finishes can deteriorate to a condition whereby the finish of the building has reached the end of its service life, but the envelope is still in good condition. Alternatively a colour change is required to maintain the client company's corporate image, or lease dilapidation clause require buildings be returned to original condition. We offer varying paint specification options to match budget to requirements, with guarantees ranging from 5-25 years.