Located on the outskirts of London,our 10,000ft² office and factory facility supports the on-site works with the help of our dedicated in-house Spray Booth, Testing Lab and Training Area.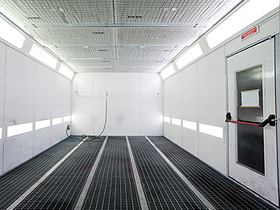 Spray Booth
Our fully equipped in-house Spray booth and drying area allows for off-site spray coating works to be carried out in a fully controlled environment for high quality and fast turnaround.  Supporting our on-site services, elements of up to 8 metres can be repaired and re-sprayed to a high quality finish.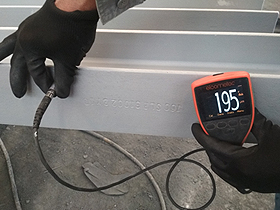 In-House Testing Lab
By using in-house testing equipment, we carry out testing of specific physical properties to new and aged coatings, providing quantitative data results if required.
Spectrophotometer – Measuring precise Colour and Gloss. Used in-house for colour match accuracy, and also on-site to ensure tolerances are kept within set standards.
Pencil Hardness Tester – A standard testing procedure which provides a quantitative value for paint resistance to scratching. (Complies to ASTM D3363).
H.A.T.E. (Hydraulic Adhesion Test) – Tests paint adhesion to any substrate and provides a quantitative p.s.i. value for paint delamination.
Cross Hatch – A standard on-site test for paint adhesion, providing speedy data for paint adhesion to substrate.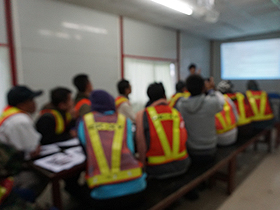 Training
Our Practical Room and Training Class ensures all operatives undergo the necessary training needed to ensure they are fully conversant with all Spray, Glass and Hard Coating Repair techniques required to ensure works are carried out to the same consistently high standardeach and every time.
As an approved Corrodere training provider,we put all of our directly trained employees through the necessary relevant courses required, plus also offer training courses to outside participants.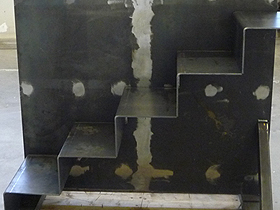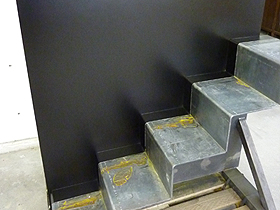 Mock Ups
Benchmark and mock-up samples are often required for sign off by the client prior to the full works proceeding.
Either carried out at our in-house facilities or on-site, we ensure that all mock-ups/samples are carried to consistent exacting standards.